Big Agnes Copper Spur Tent Takes Home the Gold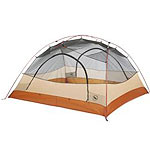 As spring tickles those tiny nose hairs still slightly frozen from a cold winter I'm getting in the mood for some serious backpacking and camping. And so are the folks at Big Agnes - well, after they cool down from celebrating a big achievement - the Big Agnes Copper Spur tent pulled off an impressive victory over at Backpacker magazine.
The Big Agnes Copper Spur UL4 tent was awarded a 2011 Backpacker magazine Editors' Choice Award. This is the top dog award in the outdoor industry, which is given annually to the best products for outstanding innovation in design, materials and performance.
And a well deserved award it is - the Big Agnes Copper Spur tent is a beautiful ultra lightweight backpacking tent perfect for three-seasons of ultralight backpacking featuring double doors and vestibules and weighs in at only 5lbs 9oz! That gives you plenty of space to pack in that extra warm sleeping bag if you can't wait to hit the trails until this summer.
Our primary family tent is similarly colored as the Big Agnes Copper Spur with shades of orange and let me tell you when the morning sun sets that baby aglow it is something to behold - like being in the middle of a glowing canyon at the Grand Staircase Escalante National Monument in Utah.
Check out the sale at Mountains Plus on the Big Agnes Copper Spur UL 4 Person Tent. (with FREE Big Agnes Tent Footprint) At the time of this writing you'll snag an extra 12% off and have a bit-o-change left over to pick up a pair of pants to replace the one chewed on by that black bear last year - didn't I tell you not to sleep with an apple in your pocket?
Big Agnes Copper Spur UL4 Tent Specs:
Three season, free standing, 4-person ultralight backpacking tent
DAC Featherlite NSL pole system with press fit connectors, and lightweight hubs - eco-friendly anodizing
DAC poles made from TH72M aluminum: (latest tech in lightweight tent poles)
New HClip attaches tent body to cross pole
Ultralight silicone treated nylon rip-stop Fly and Floor with a 1200mm waterproof polyurethane coating
Tent body is ultra lightweight nylon and polyester mesh for excellent ventilation
Quick and easy set-up with Hub/pole design and New DAC Twist Clips
Two vestibules with D-shaped doors and storm flap over zipper
Interior mesh pockets
Reflective guyline and reflective webbing on tent corners for nighttime visibility
All seams taped with waterproof, solvent-free polyurethane (No PVC or VOC's) tape
Includes 10 Superlight aluminum J stakes - with eco-friendly anodizing
Gear loft loops and Big Agnes' specific footprint included
You Can Also Find Big Agnes Copper Spur Tents on eBay
No items matching the keyword phrase "big agnes copper spur" were found. This could be due to the keyword phrase used, or could mean your server is unable to communicate with Ebays RSS2 Server.