Eureka Adventure Apex 2FG 2-Person Tent Close Out Sale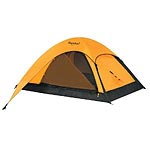 Awhile back we reviewed the Eureka Apex 2XT backpacking tent, which was getting rave reviews - we just took a look at last years model the very similar Eureka Adventure Apex 2FG, a 7-Foot by 5-Foot 2-Person adventure tent that is on sale now to make room for this years model.
If you are looking for a good backpacking tent at an affordable price the Adventure Apex 2FG from Eureka is your go to guy. With basically the same features as the 2011 Eureka Apex 2XT but at $45 cheaper it is a great entry level backpacking tent, or maybe even a good backup tent for when those bears get too feisty and you have to run for your life.
Eureka Adventure Apex 2FG 7-Foot by 5-Foot 2-Person Tent Features
Lightweight backpacking two person tent, with 2 doors and 2 windows
Double-coated StormShield polyester fly and bathtub floor (a little seam sealer is still a good idea)
Well ventilated by one entire wall of mesh, protected by Stormshield polyester fly
Small batwing semi-vestibules offer extra gear protection
Twin track zippers window to be open when door is zipped
External guy points on the fly help secure your tent in high winds
Two mesh gear pockets for internal storage, as well as clothes line and flashlight loops
Eureka Apex 2FG 2-Person Tent Specs
Area: 36.5 square feet
Floor size: 7 feet, 5 inches by 4 feet, 11 inches
Center height: 3 feet, 7.5 inches
Wall and floor fabrics: 1.9-ounce 70D Polyester taffeta 800mm coating
Fly fabrics: 1.9-ounce 75D 185T StormShield Polyester 800mm coating
Pack size: 6 by 18.5 inches
Weight: 5 pounds, 6 ounces
Take a look at Current Deals on the Apex and other Eureka Adventure Tents
No items matching the keyword phrase "eureka apex" were found. This could be due to the keyword phrase used, or could mean your server is unable to communicate with Ebays RSS2 Server.