Coleman Red Canyon Tent Still a Best Seller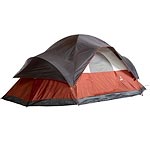 It isn't often you find a top rated 8-person tent for under $150 and get a free sleeping bag to boot. I don't know how long this offer is going on but in celebration of this years summer camping season Coleman and Amazon have teamed up to give you a free Coleman Clear Lake Warm-Weather sleeping bag - it is only rated to 40 degrees Fahrenheit so this isn't your all season sleeping bag, but it is perfect for summer camping or to throw in the car for a picnic spread.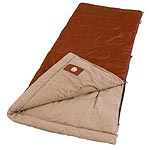 I suppose you'd like to know how to get this free Coleman sleeping bag huh? Well I suppose I can tell you, no fair keeping the secret to myself after building it up so much. Swing on over to Amazon a buy yourself a Coleman Red Canyon Tent such as the top selling Coleman Red Canyon 17-Foot by 10-Foot 8-Person Modified Dome Tent which is on sale for a nice low $139.99 at the time of this writing.
Coleman Red Canyon 8-Person Tent Best Family Tent for the Price
If you are looking for a good family tent the Coleman Red Canyon is a great entry level tent - with almost 2000 reviews it still maintains a 4.1 star rating. With three room dividers, a center height of 72 inches and a footprint of 170 square feet you'll have plenty of room to spread out and play cards in the middle of a rain storm while keeping dry due to Coleman's Weathertec System guaranteed to keep you dry. I would recommend sealing the seams for added protection, as do many other reviews of the tent.
Overall this is one of the best 8-person tents for the money - you really can't beat a $140 family tent. Take some time and peruse the many reviews over at Amazon and then pick one up - tell them Rusty sent you and they'll give you a free Coleman sleeping bag. Well okay they'll give you the sleeping bag anyway but it won't hurt to name drop right?
Update: The Free sleeping bag offer is no longer in effect but the Coleman Red Canyon is still one of the best selling tents in its category if that tells you anything. Check out current options for sale below...