Mountainsmith Borealis AT Recycled Camera Backpack: Everything and the Kitchen Sink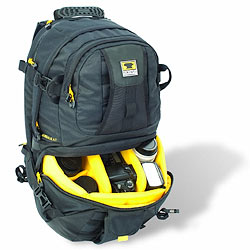 If you have a ton of camera gear (and what true photographer likes to go anywhere without all his toys) you'll want to take a look at the Mountainsmith Borealis AT Recycled Camera Backpack
. What first caught my eye was that it is recycled, made from 100 percent recycled PET ReDura fabric. I admit I'm a true eco geek so if you are a fellow outdoor lover who stops to hug a tree now and then the Mountainsmith Borealis camera backpack will be right up your alley too.
Just as important as the eco-friendly nature of this Mountainsmith camera backpack is the room - and I mean this baby can hold the kitchen sink kind of room. As I was researching camera backpacks and particularly this Mountainsmith Borealis AT I came across a review that I just have to share with you - you can read more reviews for the Mountainsmith Borealis AT before you buy but this one was great.
The Best Mountainsmith Borealis AT Camera Backpack Review
I'm not going to copy down the whole review, you can check it out yourself but take a look at what this guy was able to fit in his Mountainsmith camera backpack… First he throws in his Canon SLR Body, two lenses, an iPad, his 15" Laptop, two external hard drives and the chargers for all that gear. That's impressive in and of itself but it goes on. He then tosses in a back up point and shoot camera with charger, the underwater housing, sunglasses, two magazines, iPad photo attachments, cleaning kits, and an external flash.
Sounds like the Borealis AT would be packed to the brim right, but wait there's more (this sounds like an infomercial). He gets to the airport only to find his checked bag is too heavy so he has to stuff more into the Mountainsmith Borealis AT camera bag. So in goes a mask, snorkel, two pairs of his shoes, and two of his wife's purses - plus a bunch of stuff from her purse and her several inch thick Twilight book!
You'll have to read the review to find out what happens at security as that's another great story. After all this he says the Mountainsmith Borealis AT camera bag is still comfortable to wear albeit a bit of a tank fully loaded - but it is good to know if you have lots of camera gear you just can't travel without the Mountainsmith Borealis AT camera bag can handle it.
Mountainsmith Borealis AT Recycled Camera Bag Features
Zippered main pocket interior with organization panels; comfortable contoured shoulder straps
Made from 100 percent recycled ReDuraTM PET
Adjustable sternum strap
Laminated mesh interior zippered pockets
Rubber molded haul handle
Can be used with the Mountainsmith Waterproof rain cover
What first caught my eye with this camera backpack was the big sale on Mountainsmith gear: $20 Back on Your $100 Mountainsmith Camping and Hiking Gear purchase. Alas that deal has passed but you can pick up the Mountainsmith Borealis AT for a nice discount over at eBay... Then throw in your camera gear, a hammock tent and sneak in an overnight photo trip - good luck! And we'll see you on the trails…
Check out current deals on the Mountainsmith Borealis below:
Since we reviewed the Borealis they have redesigned it with the help of professional adventure photographer Andy Mann. View his quick review of this photo backpack below.
If you'd like to check out current reviews or purchase the new revised Borealis backpack take a look at what Amazon has to offer to the right.
The current price as of this writing is actually lower than the previous model and features separate space for gear and laptop. As well as a better setup for carrying a tripod with a snap in strap along the side of the bag rather than along the front.
With 1,500 cu. in of room this is one luxury camera backpack that will easily hold a couple of DSLR bodies, a few lenses a couple of flashes, all your accessories and a 17" laptop to boot!