Rock Hopper Hammock Tent: Play Me Tarzan You Jane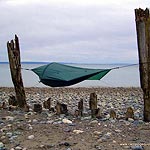 The Camping Equipment Company (CEC) known for their King Kong sized family tents takes an incredible shrinking pill with their hammock tent offerings. The Rock Hopper Ultra Lite Camping Hammock Tent Hybrid is a two in one single person tent that can be laid out on the ground for some beach front dozing or hung between two trees so you can play Tarzan looking for your Jane anywhere you can find trees or poles to hang it from. And no, if you do find your Jane I wouldn't recommend playing "king of the jungle" in your Rock Hopper as the suspending ropes while pretty strong are only recommended up to 200lbs.
These sweet hybrid tents make great backpacking, hiking, biking climbing, or boating tents. Heck I'd even string this camping hammock up in my back yard for a night under the stars. The Rock Hopper Camping Hammock Tent comes in either forest green or tan and lists for $199.99 - but you may be able to snag a 10% off coupon code from their site.
Rock Hopper Ultra Lite Camping Hammock Tent Hybrid Features
Model: SAS - Surface to Air Shelter
Dimensions: 13'x4'x2' (385x118x63cm)
Packed Size: 14"x10"x6" (36x25x16cm)
Weight: 4 lbs (2 kgs)
Materials:
Rain fly: 30D Rip stop nylon, 5000mm silicone coated, UV protection
Inner tent: Lightweight and breathable mesh walls
Floor: Super strong oxford polyester, tub style, seam taped floor
Guy Ropes: Polyester interwoven with reflective 3M Scotch-lite thread for increased visibility in low light conditions
Suspending Ropes: Extra strong, woven nylon cord can handle up to 200lbs (90 kgs) in weight
Poles: Lightweight, super strong, air craft grade, aluminum
Stakes: Lightweight, super strong, air craft grade, anodized aluminum
The Rock Hopper hammock tent might be exclusive to CEC but there are a number of other quality camping hammock makers including Lawson, Hammock Bliss and Hennessy.
Find a Similar Hennessy Hammock Tent for Sale on eBay