Ultralight Joe's Moose Goo: Recipes and Variations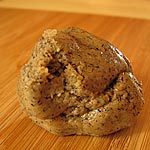 I just stepped into a big pile of moose goo this morning, well Ultralight Joe's Moose Goo to be precise, and it wasn't as bad as it sounds.
What is Ultralight Joe's Moose Goo?
Let me backtrack a bit. We just got back from a family camping trip to Gooseberry Falls State Park north of Duluth MN and had some great weather for camping and hiking. And we have another short trip planned for some local camping coming up in a few days. So that leads me to my dilemma and if you've done much camping or hiking I'm sure you can relate… what do you bring for food!
Enter my search for camping food ideas, and lo and behold I ended up getting sidetracked by a pile of moose goo right in the middle of my search, but don't fret it was actually pretty tasty and no it isn't what you may have originally thought.
You see moose goo or Ultralight Joe's Moose Goo as the official creator was, you guessed it Ultralight Joe, is actually an easy to make trail food that is perfect for camping and hiking no matter your level of outdoor experience. Only three ingredients and a few quick turns of a spatula and you have your own moose goo.
The original Ultralight Joe's Moose Goo
(see Ultralight Joe's Moose Goo and Variants for his original story and other fine variations on moose goo)
Basic Recipe:
• 2 parts honey
• 2 parts corn flour (NOT corn meal!)
• 1 part peanut butter (preservative-laden)
• Mix thoroughly, will take some time.
• Pack into Coghlan's Squeeze Tube
, or in cold weather wrap in wax paper.
Single Squeeze Tube Proportions (2-3 lunches w/ large tortillas):
• 8 tbsp honey
• 8 tbsp corn flour
• 4 tbsp peanut butter
My Take on Ultralight Joe's Moose Goo
I didn't have the essential corn flour so as any kitchen creative guru will do I improvised and started digging through the pantry to see what we had on hand for my moose goo. I discovered an organic buckwheat pancake mix that would do in a pinch and gave 'er a go.
drum roll please…. and the result of my moose goo experiment.. quite good! And filling, I only had a couple spoon fulls and I was good to go. Which is perfect for hiking when you don't want to pack a ton and you just want a quick meal or snack before hitting the trails. Moose goo would also make a fantastic snack for kids if you are in the middle of a hike and you get the "I'm hungries" with a mile left until you get back to camp.
I still plan on trying the original Ultralight Joe's Moose Goo with the corn flour when I get my hands on some, and of course I have a few ideas that I'll have to share after I try them. So look forward to more variations including one with a powerful secret ingredient that the ancient Aztecs and Native Americans used to use for long endurance runs that I think would be a perfect addition to moose goo - stay tuned!
What other variations of moose goo have you tried, we'd love to hear your stories.