Hydrapak Morro: Not Just for the Hardcore Outdoor Adventurer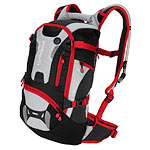 If you are a serious hiker or mountain biker you've probably heard of the Hydropak, but you don't have to be a hardcore outdoor enthusiast to love the Hydrapak Morro. I'd like to offer up another option for using your Hydrapak - shopping. Oh come on guys before you deafen me with your groans imagine this… you are out shopping with the wife or girlfriend and she pulls the dreaded "hold my purse move". Okay now you can groan. Well, now what about if she was using the Hydrapak Morro… Now you'd be happy to be the loving, dashing, debonair, thoughtful guy you know you are and help hold her bag whenever she bats her beautiful eyes at you.
The Hydrapak Morro Right at Home Indoors and Outdoors
Okay, I admit this wasn't my original plan for my new Hydrapak Morro. I'd much rather throw that baby on my back and hit some mountain trails with my bike or boots but when you have a woman in your life who loves cool bags and backpacks and the Hydrapak Morro arrives on a rainy day… well lets just say I was the loving, dashing, debonair, thoughtful guy and let her have first crack at trying it out.
Now ladies, if you are the outdoor adventure type can you see yourself sporting a cool Hydrapak backpack around the mall rather than a bulky purse? But what about the water bladder you might be wondering - well for one if you are in power shopping mode (let's say on Black Friday) who has time to hunt down a drinking fountain or find the food court for a drink? Wouldn't a hydration pack come in quite handy? If you don't see yourself wiping out the drinking straw in the middle of rushing to the next sale the beauty of the Hydrapak is that the water bladder is very easy to remove giving you more storage space.

Check out the cool features of the Hydrapak Morro
Some of the Many Cool Features of the 2012 Hydrapak Morro
This time of year, at least for us Northern folks a light jacket is a must, but when you are storming through the mall things get a bit heated - the Hydrapak Morro has plenty of room to stash your jacket. Plus there are tons of smaller pockets for you to get creative with - the side pockets can hold a water bottle if you don't bring the water bladder, and there is a pocket all warm and cozy for your phone or iPod for some calm relaxing music while you push people out of the way to get to the last pair of Keens.
I don't know about you, but I love a bag that can be used for multiple purposes, even if that means I have to be the guy on the sidelines holding my wife's backpack - at least I'll look cool. Plus I know it won't be long before we get outside on some rough terrain so we can put the Hydrapak Morro to its intended use.
Know someone who would love to get their hands on the 2012 Hydrapak Morro? Please share this with them.
No items matching the keyword phrase "hydrapak morro" were found. This could be due to the keyword phrase used, or could mean your server is unable to communicate with Ebays RSS2 Server.