Wolverine Shoes that Walk on Water: Terrain Low iCS Waterproof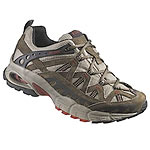 When I got my hands (well feet rather) on my first pair of Wolverine Shoes - the Terrain Low Wolverine iCS Waterproof my immediate reaction was bliss. I had been trying out a couple pairs of hikers that just didn't fit my feet so when I slipped on the Wolverine Terrain I could hear my feet gasp with the difference. I did notice however that they fit a bit loosely so perhaps going down a half size would be a good idea. I'll get back to the fit in a moment, but first the Wolverine Terrain are aptly named as they do handle a wide variety of surface conditions.
Over the past few months I've put these Wolverine shoes to the test in various conditions including a desert hike through Sabino Canyon in Tuscon Arizona, where I battled 20 foot tall cacti with my bare hands (and lost - long story don't ask), deciduous forest hikes through mud and falling fall leaves, heavy snow storms three inches deep (if you would have told me I'd see a Minnesota winter with only a few inches of snow I would have laughed, but it happened), trekking along frozen ponds, climbing over slippery river rock, and even submerging the Terrain knee deep in a swimming pool to rescue a struggling child (not as heroic as it sounds - but if you want to send flowers and gifts by all means...).
So, will Wolverine shoes hold up to all sorts of terrain - yes. But these Wolverine Terrain are best suited for a comfortable stroll along paved or soft trails than hard core climbing or hiking. The Terrain are built for comfort, from the super cool Wolverine iCS system, to the soft foam inner section of the sole which is designed more for cushioning or perhaps shock absorption rather than durability. The former is a big win in the design the latter is probably the biggest complaint I've noticed as well as read from other reviewers.
First off the Wolverine iCS system (check out the video above for the detailed features) is a pretty cool high tech way to give you more comfort no matter how you walk. If you want a firmer feel just spin the dial on your Wolverine shoes to Firm, if you want a softer cushion C is your best friend. The Wolverine iCS will even help you if you tend to Pronate or Supinate with and Inner or Outer setting.
Like I mentioned the biggest drawback to these Wolverine shoes is the foam sole. Well, let me clarify, depending on how you hike it may be a positive or a negative for you. If you plan to do heavy hiking on rocky or hard terrain you may want a hiking shoe with a more durable bottom and tighter fit. If you mostly hike around town on soft surfaces you'll love the soft foam and roomy interior as it helps with comfort and shock absorption.
The good news is that 2012 Wolverine shoes now incorporate the much loved Vibram tread in their Rugged Outdoor line so Wolverine has listened to enthusiasts suggestions with offerings for the more rugged outdoor adventurer. The 2012 Terrain Low and Mid styles still use the foam bottom however so take that into consideration when looking for Wolverine shoes for your needs.
The Low Down on Wolverine Shoes:
The Terrain Low iCS Waterproof
Very comfortable for around town walking and soft surface hiking
May wear out quickly on hard surfaces
Waterproof - even after a dip in a pool they dry out fairly quickly and the easily removable foot bed and iCS system allow for easy cleanup
Good traction on various surfaces - slippery ice, snow, rocks, dirt, dry sand etc..
Wolverine iCS system allows for many foot comfort configurations
Overall if you are a casual hiker you'll find the Wolverine Terrain fits your needs perfectly. The many features that help your feet stay dry and comfortable like the waterproof nubuck suede, breathable mesh uppers and of course the Wolverine iCS system contribute to a good light shoe for a light hike. If you like to throw on a Hydrapak Morro filled with Moose Goo and push your hiking shoes to the limits you may be better off checking out the new Wolverine Rugged Outdoor line with a more durable outsole and tighter fit.
Find Wolverine Shoes for Sale Below to Fill all Your Outdoor Needs
Have you tried Wolverine shoes? We'd like to hear what adventures you put yours through - please comment below.