Osprey Packs Poco: Super Cool Child Carrier for Outdoor Geeks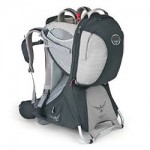 I was eagerly looking through the latest "How Will You Spend Your Dividend" REI members mailer and came across the brand new Osprey Packs Poco child carrier. Since when did they start making cool outdoorsy baby carriers? When I was a kid I tooled around on mommas back in a simple aluminum framed nylon baby carrier that had the required two leg holes and an opening to stick my butt. Oh, and did I mention that I fell on my face every time the thing was set down? Um, yeah it is surprising my nose bounced back from so many collisions.
Osprey has been making great packs almost before I was born, yet the Osprey Packs Poco is the first entry into child carriers. Mike Pfotenhauer started Osprey Packs back when I was falling on my face in those old style child carriers I mentioned. Mike started out creating backpacks for hikers and travelers who had heard about his hand made packs and probably hiked across country just to have one of these custom-fitted, made-to-order packs that would take days of loving hand stitching before they were ready to hit the trails once again. Lucky for us we don't have to wait any longer than it takes to ship them out. Well, ok I guess we still have to wait a few days for shipping, but work with me here.
If you want to read about Osprey Packs' interesting history take a look at this. While you are there check out their All Mighty Guarantee - it is the most comprehensive lifetime warranty you will ever find. If there is ever anything wrong with your pack the company will repair any damage or defect – whether it was purchased in 1974 or yesterday (or give you a new one if they can't fix it). Now that's a lifetime guarantee you can live with - a long time.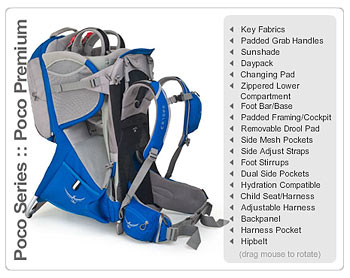 Ok, so back to the Osprey Packs Poco. Your ultimate in luxury child carrier comes in three options Poco, Poco Plus, and Poco Premium. All feature the following comfort and functionality features:
Soft, ventilated seat adjusts up and down for just the right fit and balance, baby stays cool and comfortable with a nice cushy bum
Padded, ventilated harness adjusts easily to hold your child securely
Framing around child is fully padded for comfort and protection - your baby is better protected in your Poco pack than she was in the womb, ok maybe not that much but she'll be snug as a bug and all that
Adjustable stirrups for a more comfortable ride will give your shoulders some cushion for long hikes
Removable and washable drool pad so you don't have to have a back full of drool and your baby has a soft place to snooze
Hydration sleeve behind back panel - following the drool features really makes me thirsty - you'll be covered in case you need a nip of "grandpa's cough medicine" or just plain 'ol water is fine too
Two padded grab handles for balanced lifting
Strong, reliable powedercoated aluminum frame with injection molded hinges - that just means the Poco pack is nice and light at less than a pound you have more room for a healthy baby - and extra diapers
Folds easily for storage or travel
The Osprey Packs Poco Plus and Poco Premium have even more fun features and adjustablility. What I really like about the Osprey Packs Poco Premium is the included detachable daypack, padded (but lightweight) changing pad, and built-in sunshade. Plus it has more pockets and storage for extra gear. You may not need all the extras in the Premium but why not go all out. You can add your own Osprey Daylite daypack to the Poco and Poco Plus models using the built-in add-on loops however.
The Osprey Packs Poco was released spring of 2012; you can get yours at eBay and grab a decent discount.
Find Current Styles of the Osprey Packs Poco for Sale Below
Header Image Source: Ospreypacks.com