Coleman Instant Tent: Easy to Set Up – More Time for Marshmallows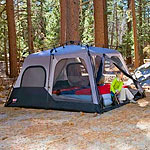 Good news for campers tired of struggling with tent set-up - perhaps the best thing since Google instant (but not as groundbreaking as instant coffee) comes the Coleman Instant tent.
A line of easy to set up tents brought to us by someone who uses their noggin and finally figured "if the Poles come pre-attached to the tent perhaps it will make tent set-up easier."
Our last tent (also a Coleman) was pretty easy to set up with color coded poles and pole tags on the tent, but the Coleman Instant goes one step further and pre-attaches the poles to the tent so you don't have to figure out which poles go where - especially when you are late to camp and trying to set up the tent by car headlights.
For all of us family campers the most popular Instant the Coleman Instant 8- Person Two Room Tent is a delightful treat for big groups.
In under a minute your tent is up and you have two queen sized air mattresses all ready to go (for those of you who don't like to cozy up to a tree root all night long - air mattresses are a blessing). All that's left is for you to enjoy the fun parts of camping... falling asleep in the sun for a quick nap until you wake up to the smell of a campfire and supper magically prepared by your master chef (what you don't camp with a master chef?)
Regardless of your camping culinary preferences the Coleman Instant has proven to be an easy to set up tent that lets you enjoy camping and forgo the familial cursing over tent set-up. Hey the family that can survive the great outdoors without a few verbal skirmishes should get a merit badge - but all is forgiven when the toasted marshmallows his those graham crackers right?
Coleman Instant 8-Person Tent Product Features:
• Spacious 8-person, 2-room tent designed for quick assembly
• Poles come pre-attached to tent, ensuring setup in 1 minute or less
• Exclusive WeatherTec system with thick waterproof walls and welded floor
• 2 doors and 7 windows for full ventilation; removable divider between rooms
• Base measures 14 by 10 feet; center height of 6 feet 5 inches; 1-year warranty