Grab Those Snowshoes and your Eureka Apex 2XT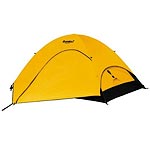 I just got in from shoveling the latest beautiful batch of fluffy white snow from the driveway, the kind that is so fine and powdery it feels like talcum powder - and I couldn't help but think how much I wanted to throw on my snowshoes, a backpack and hit the woods.
It also got me thinking as the blow back from a 15 degree blast of ice crystal filled wind caught me by surprise that without the right winter gear outdoor activities like backpacking or winter camping aren't always that fun. Despite the 15 degree day (and face full of snow) it actually felt rather warm, (we just got over a week of rather frigid below zero temps) and it wasn't long before my thoughts turned again to winter camping or at least that snowshoe hike.
I've been looking at 4-season winter tents recently but I keep coming back to the Eureka Apex 2XT Adventure 2-Person Tent - while this is actually rated as a 3-season tent based on a number of people who have been stuck in some pretty wicked weather it holds up pretty well to winter camping.
Granted I wouldn't want to use the Eureka Apex 2XT for all my toughest winter camping outings but for a day like today where the wind is low and the temp is mild (yeah I know my friends in Arizona would call me crazy for saying 15 degrees is mild, but you know us Northerners are just tougher right? or is it that we are a little not right in the head?) this tent just might be perfect - the price is perfect if nothing else.
At $73.95 at the time of this post it is quite a bit more affordable than a 4-season tent and it is a nice lightweight backpacker tent (less than 6 pounds) perfect for my idea of a snowshoe adventure - plus when the weather warms up I can enjoy it all season, hmmm summer... is it too early to dream of summer?
Update: The Eureka Apex 2XT has been upgraded with the new Eureka Isis 2XT 2 person 3-season backpacking tent.
Find Current Deals on the Eureka Apex and the Eureka Isis Below